Top Ten Tuesday is a weekly meme and link-up created by The Broke and the Bookish in which participating bloggers share their top ten favorite books about a particular topic, as determined by the host.
This week's topic is books that celebrate diversity and diverse characters. This includes ethnic, religious, and racial minorities as well as characters with disabilities, etc. I found this topic to be somewhat challenging as I don't read a lot of books that fall into these categories. My go-to genre is fantasy (as well as a lot of sci-fi), which doesn't often showcase diversity (though it does on occasion). So almost all of the books I ended up choosing are juvenile historical fiction novels that I read for school when I was younger. I can attest, however, that despite their target age group, these books are excellent in their own right and can easily be enjoyed by teenagers and adults.
These books are listed in order from lowest rating to highest rating.
Esperanza Rising by Pam Mu

ñoz Ryan
Goodreads Summary:
Esperanza thought she'd always live with her family on their ranch in Mexico--she'd always have fancy dresses, a beautiful home, and servants. But a sudden tragedy forces Esperanza and Mama to flee to California during the Great Depression, and to settle in a camp for Mexican farm workers. Esperanza isn't ready for the hard labor, financial struggles, or lack of acceptance she now faces. When their new life is threatened, Esperanza must find a way to rise above her difficult circumstances--Mama's life, and her own, depend on it.
Rating: 3 stars
My review here.
Homeless Bird by Gloria Whelan
Goodreads Summary:
Like many girls her age in India, thirteen-year-old-Koly is getting married. Full of hope and courage, she leaves home forever. But in a grim turn of events Koly finds herself cast out into a current of cruel tradition. Her future, it would seem, is lost. Yet this rare young woman, bewildered and brave, sets out to forge her own exceptional future.
Rating: 3 stars
In the Year of the Boar and Jackie Robinson by Bette Bao Lord
Goodreads Summary:
Shirley Temple Wong sails from China to America with a heart full of dreams.Her new home is Brooklyn, New York. America is indeed a land full of wonders, but Shirley doesn't know any English, so it's hard to make friends. Then a miracle-baseball-happens. It is 1947, and Jackie Robinson, star of the Brooklyn Dodgers, is everyone's hero. Jackie Robinson is proving that a black man, the grandson of a slave, can make a difference in America and for Shirley as well, on the ball field and off, America becomes the land of opportunity.
Rating: 4 stars
The Bronze Bow by Elizabeth George Speare
Goodreads Summary:
He trains my hands for war, so that my arms can bend a bow of bronze. –from the Song of David (2 Samuel 22:35)
The Bronze Bow, written by Elizabeth George Speare (author of The Witch of Blackbird Pond) won the Newbery Medal in 1962. This gripping, action-packed novel tells the story of eighteen-year-old Daniel bar Jamin—a fierce, hotheaded young man bent on revenging his father's death by forcing the Romans from his land of Israel. Daniel's palpable hatred for Romans wanes only when he starts to hear the gentle lessons of the traveling carpenter, Jesus of Nazareth. A fast-paced, suspenseful, vividly wrought tale of friendship, loyalty, the idea of home, community . . . and ultimately, as Jesus says to Daniel on page 224: "Can't you see, Daniel, it is hate that is the enemy? Not men. Hate does not die with killing. It only springs up a hundredfold. The only thing stronger than hate is love." A powerful, relevant read in turbulent times.
Rating: 4 stars
The Old Man and the Sea by Ernest Hemingway
Goodreads Summary:
The Old Man and the Sea
is one of Hemingway's most enduring works. Told in language of great simplicity and power, it is the story of an old Cuban fisherman, down on his luck, and his supreme ordeal: a relentless, agonizing battle with a giant marlin far out in the Gulf Stream. Here Hemingway recasts, in strikingly contemporary style, the classic theme of courage in the face of defeat, of personal triumph won from loss. Written in 1952, this hugely successful novella confirmed his power and presence in the literary world and played a large part in his winning the 1954 Nobel Prize for Literature.
Rating: 4 stars
The Devil's Arithmetic by Jane Yolen
Goodreads Summary:
Hannah dreads going to her family's Passover Seder—she's tired of hearing her relatives talk about the past. But when she opens the front door to symbolically welcome the prophet Elijah, she's transported to a Polish village in the year 1942. Why is she there, and who is this "Chaya" that everyone seems to think she is? Just as she begins to unravel the mystery, Nazi soldiers come to take everyone in the village away. And only Hannah knows the unspeakable horrors that await. A critically acclaimed novel from multi-award-winning author Jane Yolen.
Rating: 5 stars
Shadow Spinner by Susan Fletcher
Goodreads Summary:
In an adventure equal to any a storyteller might relate, a crippled serving girl faces the intrigues of the harem, the dangers of the streets, and the anger of the Sultan himself to find the needed ending to an incomplete story.
Rating: 5 stars
Mara, Daughter of the Nile by Eloise Jarvis McGraw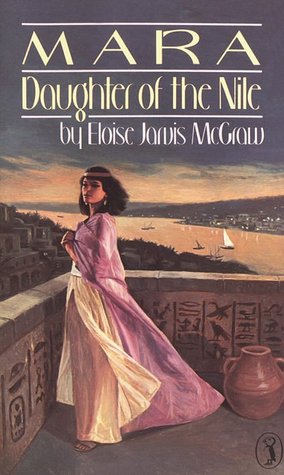 Goodreads Summary:
Mara is a proud and beautiful slave girl who yearns for freedom. In order to gain it, she finds herself playing the dangerous role of double spy for two arch enemies - each of whom supports a contender for the throne of Egypt.

Against her will, Mara finds herself falling in love with one of her masters, the noble Sheftu, and she starts to believe in his plans of restoring Thutmose III to the throne. But just when Mara is ready to offer Sheftu her help and her heart, her duplicity is discovered, and a battle ensues in which both Mara's life and the fate of Egypt are at stake.
Rating: 5 stars
Soul Surfer by Bethany Hamilton
Goodreads Summary:
They say Bethany Hamilton has saltwater in her veins. How else could one explain the passion that drives her to surf? Or that nothing—not even the loss of her arm—could come between her and the waves? That Halloween morning in Kauai, Hawaii, Bethany responded to the shark's stealth attack with the calm of a teenage girl with God on her side, resolutely pushing aside her pain and panic while being rescued and brought back to shore. "When can I surf again?" was the first thing Bethany asked after her emergency surgery, leaving no doubt that her spirit and determination were part of a greater story—a tale of personal empowerment and spiritual grit that shows the body is no more essential to surfing, perhaps even less so, than the soul.
Rating: 5 stars
To Kill a Mockingbird by Harper Lee
Goodreads Summary:
Harper Lee's Pulitzer Prize-winning masterwork of honor and injustice in the deep South ― and the heroism of one man in the face of blind and violent hatred.

One of the best-loved stories of all time, To Kill a Mockingbird has been translated into more than forty languages, sold more than thirty million copies worldwide, served as the basis of an enormously popular motion picture, and was voted one of the best novels of the twentieth century by librarians across the country.

A gripping, heart-wrenching, and wholly remarkable tale of coming-of-age in a South poisoned by virulent prejudice, it views a world of great beauty and savage inequities through the eyes of a young girl, as her father ― a crusading local lawyer ― risks everything to defend a black man unjustly accused of a terrible crime.
Rating: 5 stars
Happy Reading!
Sarah